Post by Thani on Jun 2, 2021 17:59:14 GMT -5
Guide to FX Design

(WIP)
Introduction
I'm probably not the only one that cares a lot about visuals and sounds when it comes to powersets, and sometimes I wish a set was a bit more suited to my tastes in that regard. Fortunately, all you really need to make your own alternate fx is a local fx folder, notepad (preferably Notepad++) and the fxtesting commands in game. No test server, no binning, just alt tab to Notepad++, change the file, alt tab back in game and test. All of the hard coding work is already done by the good devs so that anyone in the community can contribute with
new content
.
As long as you're on Thunderspy the fxtesting commands will allow your client to load your local fx files rather than the binned server files. Not only does this allow you to instantly test a modified FX file in game with the /fxtest command, any power used in game will draw from your local FX so you could change and get the "feel" for a whole new altfx set before you move ny of the files. In doing so you also sort out any problems before it even goes on any test server, so making FX is not only fast but also easy and I'll show you how.
Requirements:
Server with fxtesting (Thunderspy)

Notepad++ (or some equivalent text editor)
Local fx folder (download link below)
Download:
FX Folder
(.zip, 44 MB)
So starting off, assuming you're already playing the game and that you have a text editor all you need to do is put the fx folder from the zip file in the /data/ folder within the game directory (where the main .exe is). If you don't have a data folder just make one and throw the fx folder in that one. The fx folder should contain a lot of subfolders with various files, all named so that they get used in game.

The fx folder should contain a lot of subfolders with various files, all named so that they get used in game.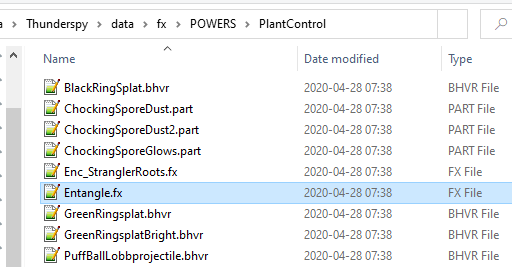 You'll notice mainly 3 types of files when you're looking through the folders, these being:
.fx = Special effects like auras, attacks, sound and hit fx. This is the main fx file and largely made up of "events" that decide when and where things happen.
.part = Particle files that .fx files refer to, for flames, smoke, sparks and stuff like that. Basically the what part of the fx.
.bhvr = Behavior files, for defining movement, color, opacity etc for particles, projectiles and other things. Very much the how part of the fx.
To get any of these fx files to be used in game we use the command
/nofilechangecheck 0
that tells the game to look for local files in the fx folder rather than for the serverside files. Since it's just fx, this doesn't affect gameplay and it is entirely clientside, meaning only you can see it, but it does take longer to find local files, so when you are done or decide to go on missions with your friends do remember to turn
/nofilechangecheck
back to
1
.
Once we've done this command, any power used in game pulls fx from the local folder and you can try out any fx with the command
/fxtest
followed by the path FROM within the fx folder to the file, typing out the full file name including .fx at the end. So, for example if I wanted to test the Entangle.fx shown above I would type in
/fxtest POWERS/PlantControl/Entangle.fx
and the fx would play.

With that done, let's move on to the files.
---
Every power or emote in the game that has special stuff happening refers to an .fx file where it's entirely defined by various tokens and flags. These are easily identifable and you can tweak any value without much fear, if it breaks, the game will simply load whatever version last worked when the power is used or if you use the /fxtest command. Usually you know something is broken if you change values and you notice no changes in game, simply go through it and see what's wrong or spam Undo (ctrl+z) until it goes back to normal. If you're not sure what is broken, try deleting sections of it to see if the power now works fine, at least then you'll figure out
where
the problem is. The file may be split into different conditions and events, but if anything breaks, it's all broken until you remove the error.
So, what are we dealing with? Let's look at something we're all probably familiar with, the simple fx for Leadership: Assault.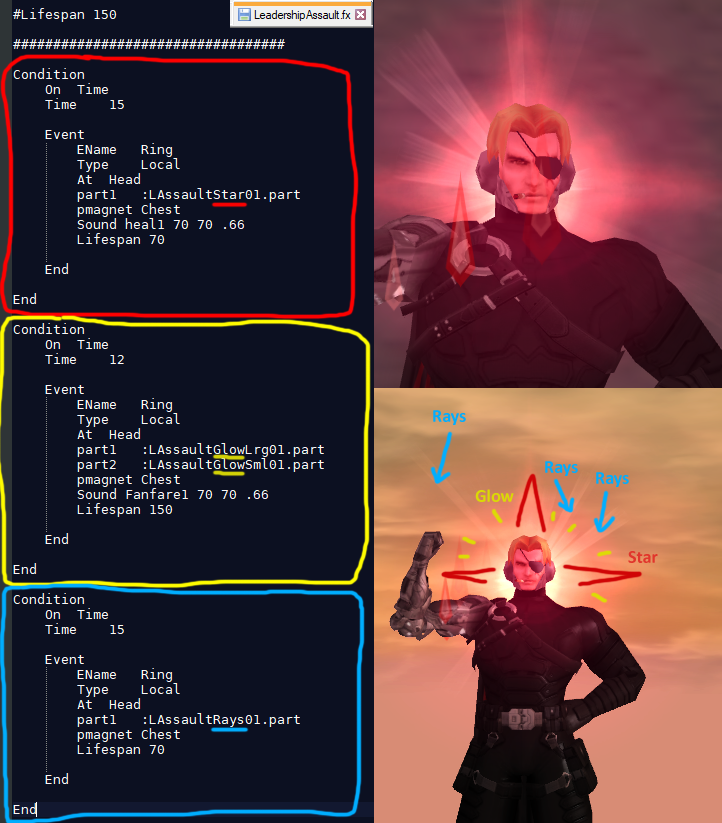 This is really all there is to the fx. Three so called Events all conditioned to start based on time with the first one kicking off at Time 12 with the (redish) glow around the head, followed shortly by the assault star and the rays of light both positioned at the head aswell. Every Event is categoried under the conditions it starts under, this can be a specific time, a cycle of for example every second, or some other trigger. If you look at the top and the bottom ones you can see that they in fact both start with the same condition, On Time, (at) Time 15. If we wanted to, we could move the bottom event up to the top one without any problems.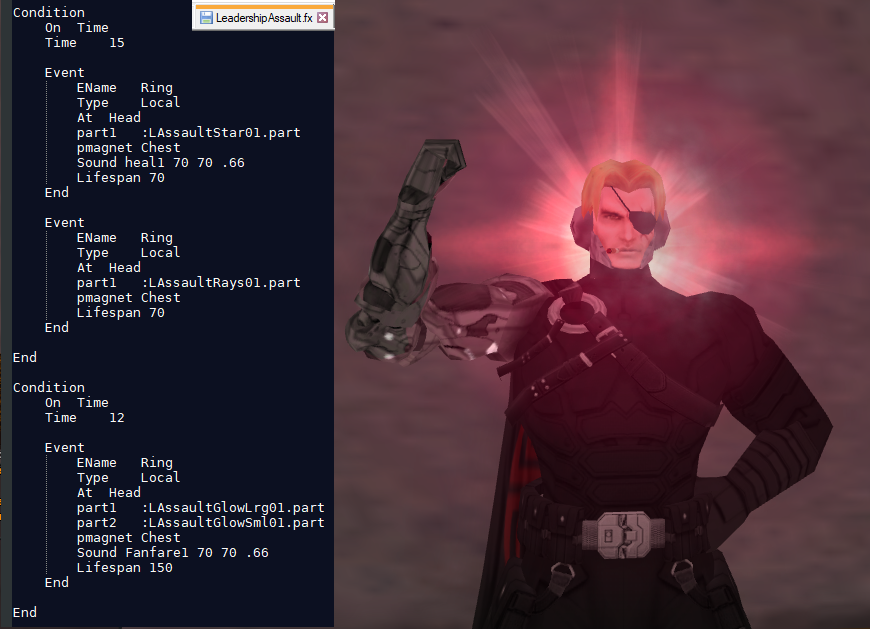 Testing it in game, it plays exactly the same. At Time 12 it plays the Fanfare sound and puts in the glow particles at the head with a lifespan of Time 150, followed shortly by the others. As you may notice the
Type
is also set to
Local
meaning that the effect will remain local, so if you move (or get moved) while the FX is going off the particles will follow along with your head. If we were to change this to Type Start instead they would stay where they first appeared no matter where you went, until the Lifespan runs out and they disappear.
If we wanted, we could also swap out the particles brought forth by the
part
token (the numbers don't really need to be there but can be helpful) for something else. As you can see it refers to the file by :
name
.part but that can be changed to anything. The colon ( : ) simply tells the fx to look for the particle in its own folder. If we wanted, we could have it path to other particles, for example we could replace ':LAssaultStar01.part' with 'emotes/Snowflakes.part' and that's what we'd see instead. Any particles you're familiar with that do what you want can be used in any fx, no matter where your fx file is. Normally you may see .bhvr (behavior) files with the other files, refered to in the .fx file with the
Bhvr
token, using similar paths or a colon and refered to by name, but even without a behavior file a particle pulled in from another folder can be changed in the .fx file itself through
BhvrOverride
, but I'll go more into behavior tokens in the .bhvr part of this guide.
When it comes tokens it's important to remember that although there are a lot of them FX is a world of possibilities and there are tokens for a LOT of things, but this shouldn't discourage you from getting into FX as it likely only takes a few of them to make what you have in mind. Oftentimes you can take an existing FX and just change a few lines, or copy over events from other files (as long as you make sure the paths to particles etc are correct).
FX Tokens
When it comes tokens it's important to remember that although there are a lot of them FX is a world of possibilities and there are tokens for a LOT of things, but this shouldn't discourage you from getting into FX as it likely only takes a few of them to make what you have in mind. Oftentimes you can take an existing FX and just change a few lines, or copy over events from other files (as long as you make sure the paths to particles etc are correct).
Noteable Condition Tokens

On Time
- The most common one, simply plays an event when appropriate, usually timed with various parts of an animation. As shown above it usually has 'Time [number]' under it. It's worth noting that On Time, at Time 0 is the default. If you don't type in any condition token it will simply play an event whenver the FX is activated.
On Cycle
- When given a Time underneith, the event will play itself over and over with the Time being the delay between each cycle. For example,
On Cycle
with
Time 15
under it will have events play at 15, 30, 45 and so on. This and On Time tend to be what's used in the vast majority of cases.
On Triggerbits
- Very versatile condition utilized in a lot of the more complex effects. For example the jetpack costume fx thrusters utilize
Triggerbits FLY
so that the FX only plays when you're in the air, and there are a lot of these so called bits. Among the statebits for example is FORWARD, BACKWARD, STEP LEFT, STEP RIGHT, TURN RIGHT, TURN LEFT, LANDING, IDLE, JUMP, STUN, COMBAT etc. There are also SurfaceBits used by the sprint power for example, so that appropriate events can play when you run across grass, snow and whatever else. Anim Bits are used for certain weapons, like a katana has
Triggerbits LEFTHAND
since it's held in the left hand, so it's only visible when in use. These bits are set by animations.
On Primehit/Prime#Hit
- An interesting condition when it comes to projectile attacks. When any event whose event name is called Prime (or Prime1, Prime2 etc) hits its intended target (through the Magnet token) any event under this condition will activate. This is often used to destroy the projectile after it connects so that you don't have the projectile sticking around at the target.
On PrimeBeamHit
- Same as above but when a beam reaches its intended target. An example of a beam is the Peacebringer eyebeams which technically spawns cylindrical geoms at your eyes that are then stretched towards the target until they connect. Could be used for example in fx that establish a beam and then fire something along it, perhaps pulsating towards or "draining" something from the target.
On DayStart/DayEnd
- Rare but self-evident. This could be used for example to activate a certain aura at nightfall, and then have a second event terminate the first one at dawn.

Chance
- A value set from 0 to 1 with the later being 100% chance to occur, this can be used with cycle for example to create effects that are seemingly timed at random, it's noteable that IF it occurs then every event under this condition will play. If you want them all to be random to eachother you'll have to separate the events under it and give them all chance conditions.
DoMany
- How many of any event will be active. With a cycle for example it just keeps building unless one event is set to terminate (Lifespan) before the other starts. Same goes with Triggerbits, this ensures you don't get a buildup, or that a cycling event plays only a set amount of times.
Repeat
- How many times events under this condition will be played at once. Set it to
Repeat 100
and you get x101 of whatever the events do the moment they activate.
RepeatJitter
- Same as Repeat but with a random component to it. Anything with 'Jitter' after it decides how much something varies. Repeat 5 with RepeatJitter 3 will have an event repeat 3-9 times for example.
Noteable Event Type Tokens

Type Start - An event like this simply starts in a certain spot and does nothing out of the ordinary. Activates wherever it's set to and stays there.

Type Local - These events start at a set spot but will move with whatever it's assigned to. Utilized in most auras and continuing effects.

Type Destroy - An event like this has a singular purpose, and that is to end another event by giving it the same event name (EName token) as the target.

These three types make up the vast majority of events and for most things it's all you need but there are a few special ones that are worth mentioning.

Type SetLight - Will brighten or darken something when given the appropriate behavior, usually only for a few frames so it requires a tight cycle (Time 2 or so) for a continous effect.

Type SetState - Will start fx with events set to activate On Triggerbits when given the appropriate bits. Usually used with RIGHTHAND or such Anim Bits to make weapons show up in hands.



WIP
---
You'll often see FX files with not only multiple events for particles, but also many different particle per event. Although this might look intimidating at first as they all hold a lot of lines, there's usually only a few differences between particles. A laser beam for example will typically have a slim and dense "core" defined with a high Alpha (high opacity), then surrounded by a secondary glow particle which is wider and set at a lower Alpha (low opacity). One without the other would look strange, but together they form a good laser fx. The difference between the two might simply be two lines, one for width (scale/endsize) and one for opacity (alpha), but they keep the same fade in and fade out time, same color, same customizable tint and so on. Don't be intimidated and feel free to experiment with multiple particles to get the visuals you want.
Particle Tokens
WIP
---
WIP
---
Examples
Simple Example: Shark Chariot (Joke flight FX)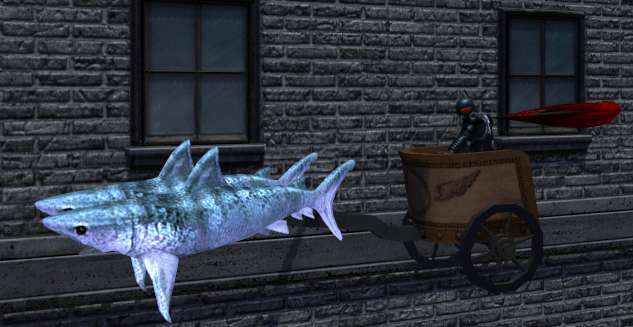 Although this one may look like a complex fx based on what you're seeing, it both has more to it than what is shown and took next to no effort to make. This is because the power is based on the .fx for the pre-existing hoverboard power. As you can see, he's practically surfing in that chariot and it's because all I did was replace the
geom
for the hoverboard with one for a chariot and adjusted its behavior slightly with
BhvrOverride
to have it angled and positioned right. To avoid it looking like the chariot has thrusters on it I simply deleted those events, poof, magic, and in separate events I put in the
Anim
for a Shark. As animations rather than static geos they move appropriatly to swim in the air as you go forward and as long as they positioned
At
the chariot, they angle themselves when it does. These too needed no behavior file, merely some slight adjustments with
BhvrOverride
to make sure they are positioned infront of the chariot, one a bit offset to the right, one a bit to the left, and both scaled down slightly so they don't slap the chariot with their tails. All and all I swapped out a geo, added two sharks, deleted the thrusters and added some behavior.
Working from an existing power that does what you want (in this case ride something in the air) is the easiest way to make a new fx, in fact if you look at many .fx files made by the original Paragon devs you'll notice that they did the exact same thing. Change a few lines, adjust some behavior and see what it looks like in game as you do so. If I wanted I could have added reins to the sharks, or swapped them out with some other suitable Anims or even geos if I wanted a chariot powered by rockets or generators like a podracer. After all, FX is a world of possibilities, follow your dreams.
Complex Example: Drone Barrage, aka Droneline (Red, Arachnos Themed)
This FX (shown in the banner) is one on the more complex side but I'll explain just what you're looking at and how it works the way it does step by step.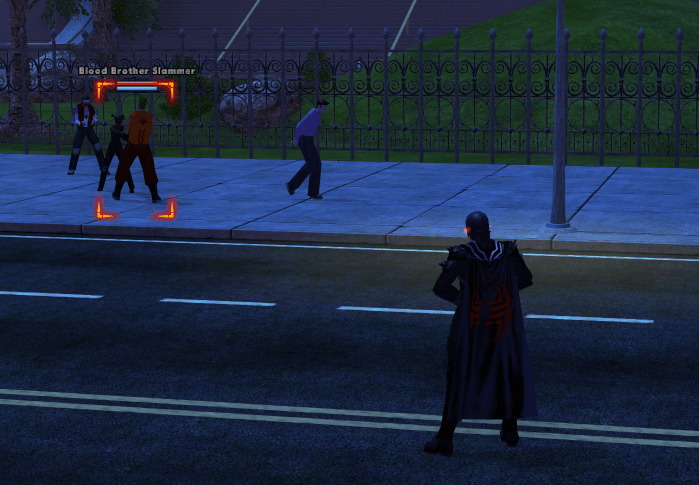 First off (at Time 5), the FX starts with establishing a "node" aka Anchor at the base of the character. (At Root), and it plays a beeping computer sound that ends shortly after (Lifespan 10).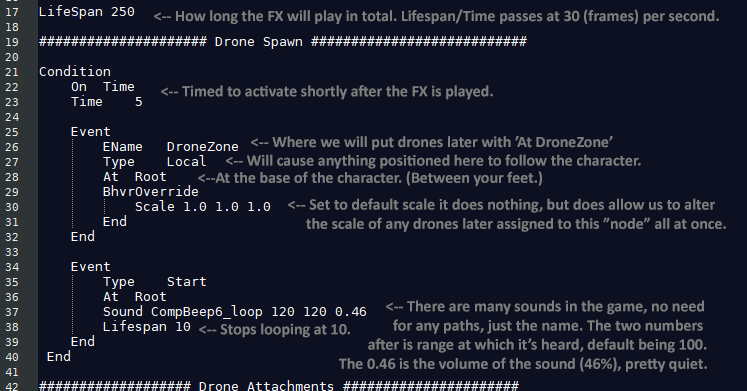 With the main node/anchor positioned, we can move on to the more interesting stuff.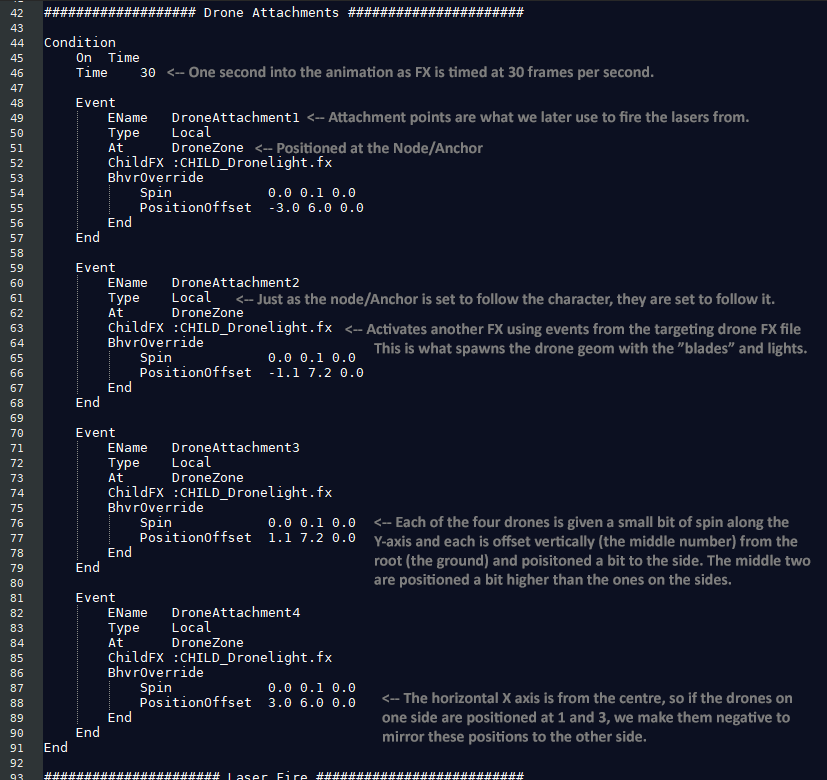 With the four attachment points set, tied to the main node/anchor we use a ChildFX which spawns a drone
geom
and some associated particles at the FX's
Origin.
Let's take a look at that ChildFX.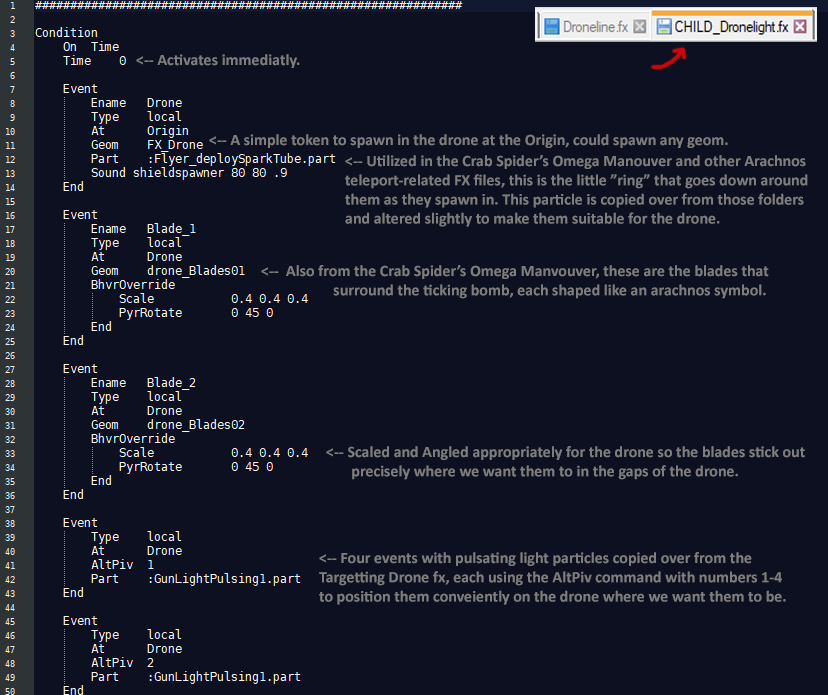 Another FX using the same ChildFX, this time larger and positioned above with lasers firing downwards: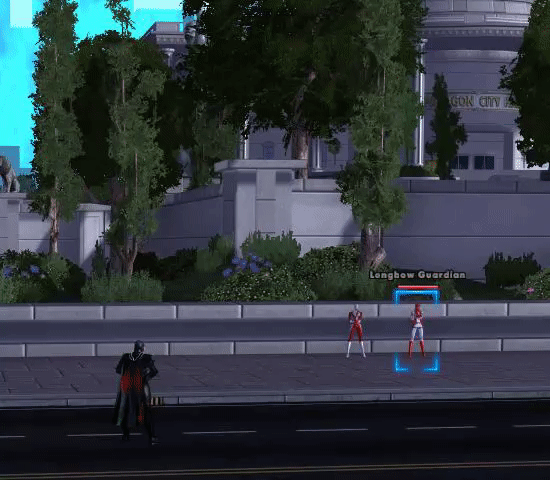 (You may notice that this one has a brighter core beam particle, looks like a more concentrated laser.)


With the ChildFX that brings in the drones explained there's only one last thing to look at, the lasers!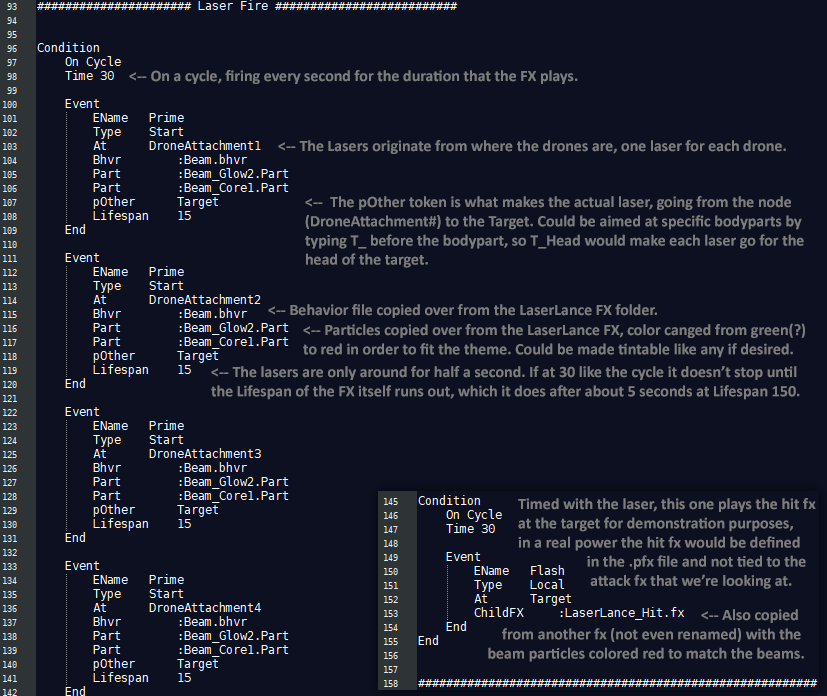 With that, everything you see on screen ought to be recognizable. The when, where, what and how laid bare, and you can see how even this quite complex FX is not so hard to wrap your head around. If we wanted we could swap those drones out for skulls with glowing eyes, shooting midnight-black beams out of their mouths, or orbs of fire throwing themselves at the enemy. The latter could easily be done by ending those events the moment projectiles are fired, and making sure that the projectiles fired are fire orbs themsleves fired from the same origin.
To show how easy it is to change these files, here are some variants I made.
Blue variant with rapid-fire, randomized beams. (Tight cycles with a Chance token.)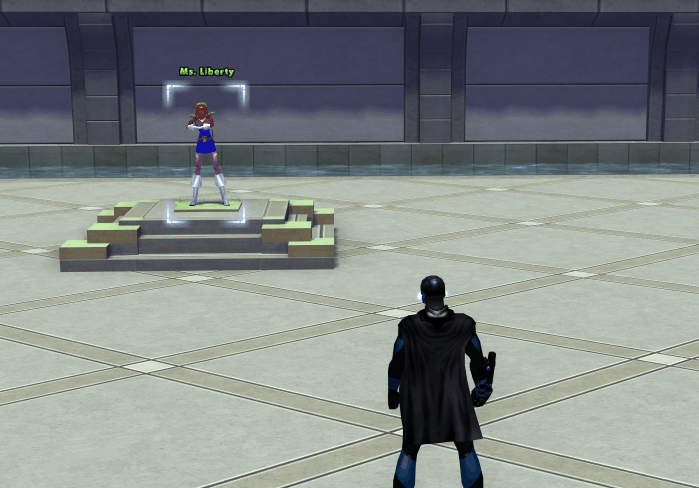 (Note that the beams are thinner but with a brighter core, making it look like tight, concentrated beams.)
Magic Spark Orbs (Electrical, timed delays between the spawns, firing identical projectiles.)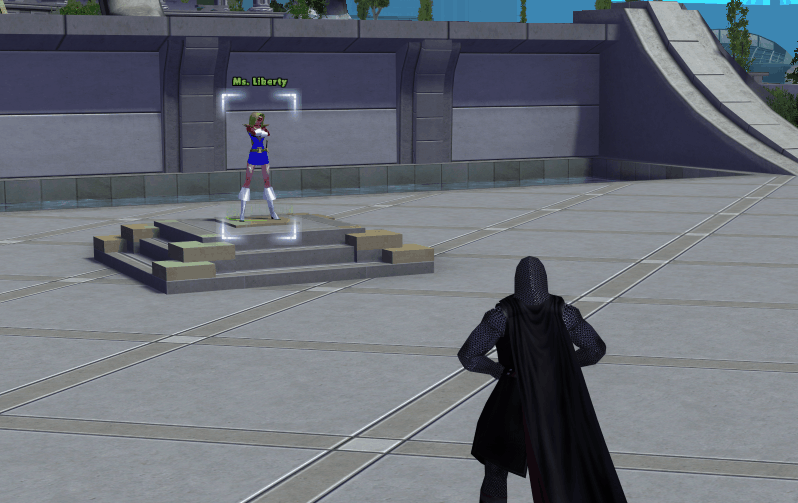 Everyone has cool ideas for powers, so take a look at some of the files in the .fx folder, mash them together, change things as you like and make your dreams come true.
WIP