Post by DrBrain on May 6, 2021 3:49:19 GMT -5
Greetings, one and all! Two years ago, this community was born from the rekindled ashes of a passion made anew - from the fervent heat of conflict came something unlike anyone had ever seen! Despite any and all setbacks, trials and adversity, we stand here all the more emboldened than ever before. Thanks to the amazing and Dauntless work of the Dev Team, for the entire month of May, we will be celebrating our communal Thunderspy 2nd Anniversary. There are many things that await, which will call upon your combined might, and of which will yield many rewards for your arduous efforts:
Experience: During *weekends* of this month, experience rates will be set from *1.5x* to* 2x* rates.
Holiday Trial: Throughout the month, a *brand new trial* will be available to players *Security Level 10* and above for *groups of sizes between 4 and 36* - this is a challenge unlike you've ever faced, *and we heavily implore you take as many friends with you to battle*. We've come for your favorite powersets, and now we've come for *your lives*. It's time to take the nerf bat to your favorite developers' knees and stop them dead in their tracks.
Badges: Not only will you obtain the Thunderspy 2nd Anniversary badge, but similar achievements will be available for defeating a different develop first among the others during each scenario, one for defeating 1,000 Thunderspy Clones, and one "Master of" badge -- a total of *more than one badge*!


Myself and all of the Thunderspygaming Dev Team would like to personally thank all of you, the players, for making us love this community as much as we do and put in the work we do. Without all of you, city of heroes would never be here today in the capacity that it is. This is your game. It will always be your game. We love you all and have fun on our server!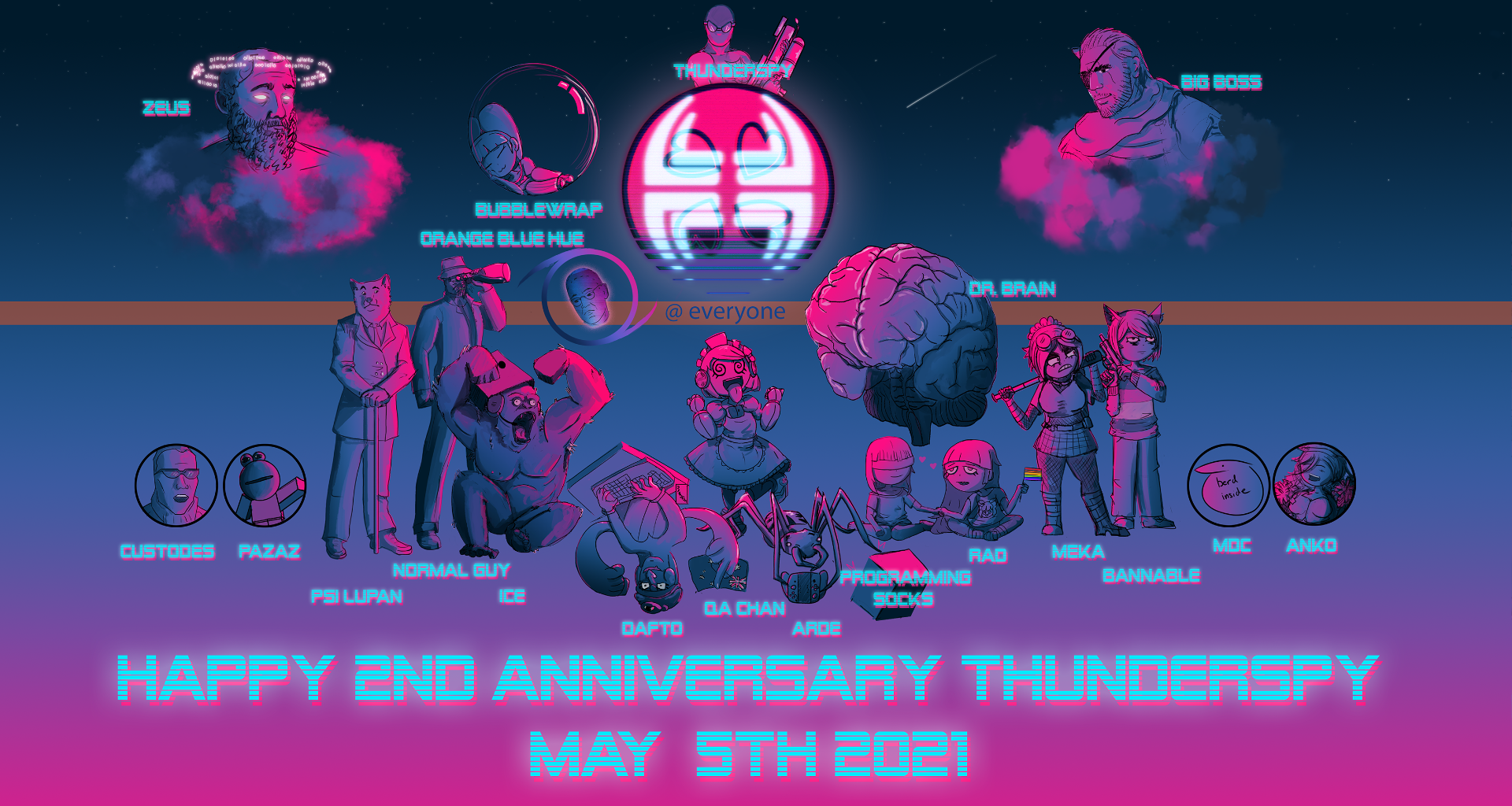 PATCH NOTES


Thunderspy Anniversary event. I'll be toggling this on or designating someone else to by this evening, as my house was hit by a tornado yesterday and I have no power.
General:
* Client and server now have SSE optimizations for various math operations that didn't have them prior. This is basically using "new" CPU stuff to be faster.
* Implemented the SCoRE power system rewrite. This means we can now remove pseudopets and add some new more interesting powers, such as chains. This also fixed Primalist's ability to heal allies.
* Added support to dynamically remove collision with zone events, so we can make maps that change on the fly in more interesting and exciting ways.
* Added fixes to NPC and Car spawners on various mission maps that weren't supposed to have them (iTrials, Siren's Call map missions, Destroyed Praetoria)

Client:
* Brought over Searge's scale fixes from Ouro. This means Window Scale will no longer make it impossible to scroll fully down various windows such as the SG list and Emails.

Cathedral of Pain:
* The Pain Bringer badge is now automatically granted.
* The Penumbra of Rularuu is now granted with the original lockout on receiving multiple.

Shadow Shard TFs:
* Flashback versions now correctly grant merit rewards again

PvP:
* Sets are once again disabled.
* A CC can now only last a max of 4 seconds, if you lack any resistances.

Pool - Speed:
* Burnout now correctly affects Brute's Titan Weapon.

Fire Armor:
* Fixed duration of Confuse resistance on Temperature Protection
* Proliferated the Confuse protection to Scrapper and Brute

* Added no redraw options for all staff melee powers

* Travel powers should now properly suppress in PvP

* Items of power no longer function in PvP, Items of power buffs cut roughly in half.

* Tenacity has had its PvP attributes added for 6 seconds out of every 10 seconds it gives 10 points of mez protection and 15 points of knock protection.

Arachnos Soldier:
* Single Shot
Recharge Time 3->4, remove damage tick that added 0.36 scale damage
* Pummel
Scale is back to 1.0 from 1.4 - It's intended to be a melee alternative to Single Shot
* Heavy Burst
Remove added damage tick that added 0.36 scale total, increase primary scale from 0.156 -> 0.38 (which is 7 ticks at that scale)
* Bayonet
Remove ticking ranged scale damage as it already had ticking damage
* Venom Grenade
Revert End cost 10.856 -> 11.856. Changed Toxic -Res from -4 scale to -2 scale like all the other -Res it does.
* Frag Grenade
Reduced damage based on the increased radius from vanilla (10 -> 20). Smashing 0.5 -> 0.2409, Lethal 0.67 -> 0.4891
* Charge
Endurance cost increased from 8.528 to 13
Remove self heal
Duration reduced to 15 seconds from 30
Reduce ToHit decrease from 0.5 to 0.05
Removed resistance increases entirely
* Toxin Mine
Recharge increased from 60 -> 120. Poison Trap is 90 seconds. There's zero reason a T9, better version should have less recharge.

Arachnos Soldier - Training & Gadgets:
* Wolf Spider Armor
Remove Heal Resistance reduction
* Combat Training: Defensive
Remove -Def resistance that was added
* Combat Training: Offensive
Remove self-damage buffs

Arachnos Soldier - Crab Spider:
* Frenzy
Damage reverted. Lethal 1.744 -> 0.79, Energy 1.736 -> 0.79. It retains the radius increase from 8->12 and the -Res.
* Omega Maneuver
Recharge time increased from 90 -> 120.

Sonic Resonance

* Disruption Aura: knock chance reduced
* Sonic Sooth: +regen reduced
* Sonic Haven: Absorb now only applies half values to the caster
* liquify: -Tohit values reduced (the set can reach the same -tohit values as vanilla by using both liquify and Resonate)

Sonic was seen as a overachiever in the eyes of the players and tests(comparatively like Kinetics) and was reeled back in to match other powersets of the same category.

Water blast:

* Dehydrate now heals instead of granting regen in PvP
* The lockout on enhanced water jet has been removed

We saw that Water Blast was lacking some fundamentals that set it apart in PvP situations and certain tasks. Replacing the small Regen boost that numerically changed very little in Regen stats to a blaster, to a small heal for sustainability was an overall benefit during testing.

Storm Summoning:

* Added a PBAoE version of O2 Boost called Oxygenate, it is mutually exclusive with O2 Boost
* Proliferated Typhoon (a Variant of hurricane with weaker debuffs and no repel) to Corruptors, Controllers, and Masterminds

Gadget power pool:

* Nano net: now has similar numbers as devices web grenade
* Wrist Blaster: Damage, recharge, endurance cost increased, damage timing adjusted.
* Blaster Barrage: has numbers similar to radiation blast's Electron Haze, changed animation to something more functional looking

* All Dominator Targeted AoEs damage numbers were set to be a bit higher than they should be as an experiment of sorts during QA, they're being adjusted lower to where they should be now.

* All versions of power boost have been set to non scaling 75% boost

* All Domianator Power build up effects have been set to a 50% non scaling boost for 10s, damage buffs remain at 15s (this is due to overwhelming synergy with domination and the control buff that was done ages ago) damage boosts reduced to Aim values

Gravity controls:

* Gravity Field has had its knock chance reduced and damage reduced

Electric control:

* Conductive Aura: PvP end drain reduced

Psychokinetic Assault:

* Swords no longer benefit from damage enhancements, this is partially to rein in their damage but mostly to stop them from benefiting from IO procs

* Psychokinetic pulse: damage reduced